At the end of March, the largest trade event in the field of modern heating, ventilation, air conditioning and smart water use, ISH 2023, was held in Frankfurt, which this year could be visited both in person and in digital form. Este'r partners' colleague, Réka Harkay-Farkas was on site, and we asked her about the latest technical innovations.
Every two years, ISH presents smart solutions and technical innovations in the application of heating, ventilation and water use. Why was it important for you to participate in this event?
In the life of our company, it has always been very important to obtain first-hand information about novelties, technical developments, and the latest trends. Unfortunately, ISH was delayed for years due to the epidemic, so it is a great pleasure that we were able to return here again after 4 years! Unfortunately, several manufacturers canceled the exhibition due to cost reduction considerations, but those who exhibited set the bar very high. Lots of technical innovations, development, time and energy saving as well.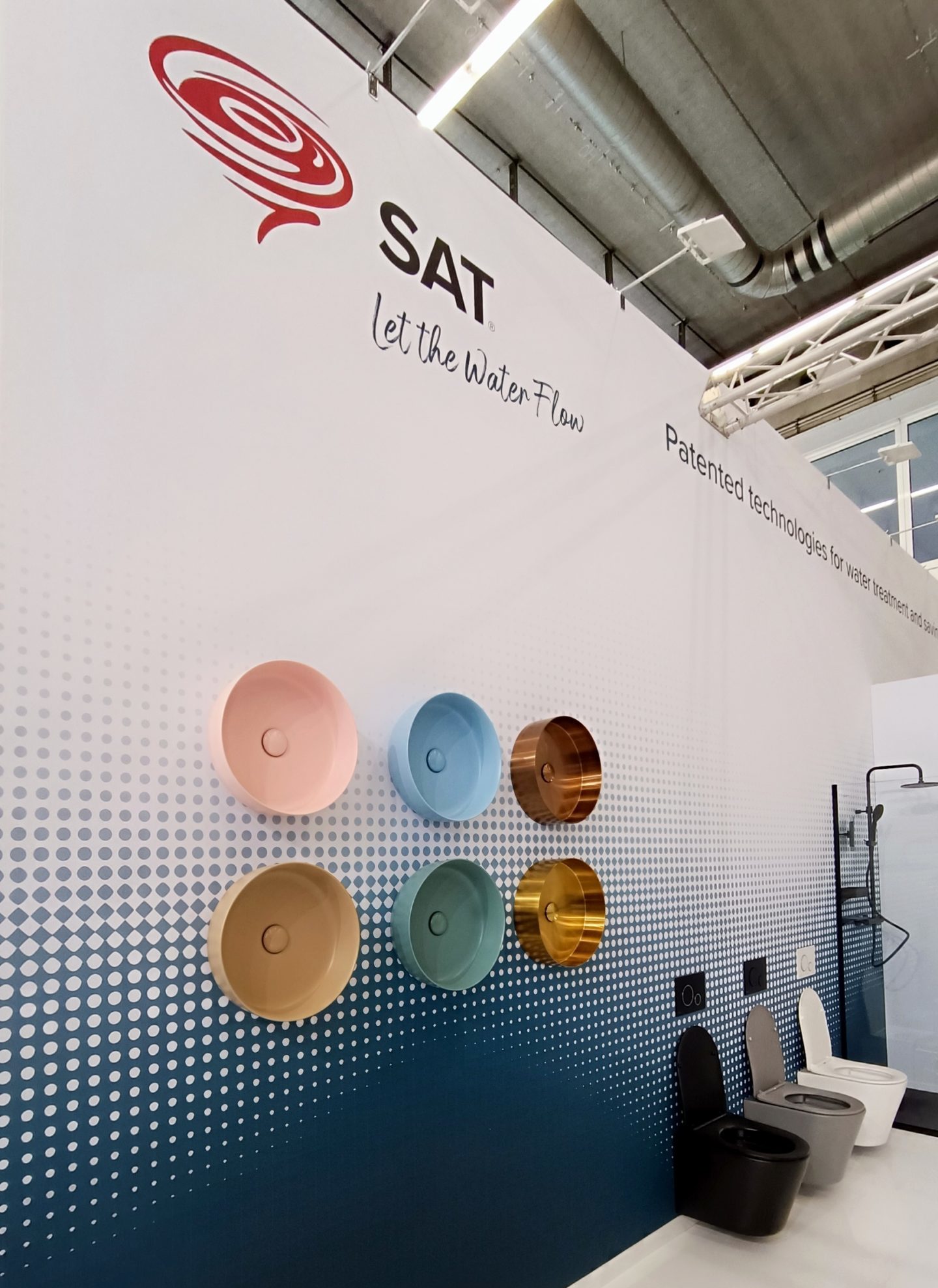 Why are face-to-face meetings important?
Such a large-scale exhibition is always a good opportunity to meet the representatives of the manufacturers, who are ready to show us the novelties and interesting things, for example, what is worth paying attention to when designing, with a complete stand management. On such occasions, we also gather important arguments why it is worth recommending a particular company's product to our customers. They always report on the use of materials and the quality requirements of the products, so the knowledge expands, and we can see live what we could see before through the monitor or from the catalog.
What novelties, trends, technical innovations have you come across?
I would summarize it in points, because the current ISH was definitely interesting from several points of view.
"Companies distribute in new segments": it is an important trend in recent years among manufacturers that new product segments are added to their portfolio. Villeroy&Boch introduced a complete faucet segment to its portfolio. Laufen offers a pre-wall installation system. Duravit has 3 new faucet families. Hansgrohe's stand was a big surprise for me. We can furnish a complete bathroom with Hansgrohe products: in addition to faucets, ceramics, mirrors and furniture. Kaldewei, for example, also offers a shower drain. The goal is to be able to furnish a complete bathroom from one manufacturer, without having to look for separate manufacturers, and it presents manufacturers with a lot of competition, which I don't think has ever happened before.
Sustainability: The bathroom has never been so "green". The products save energy and water. First of all, faucets, for example, start with cold water, not immediately with mixed water, and there are even more serious aerators (which mix air with water). Another trendy term for ISH is "circular economy". For example, at the Hansgrohe stand, I saw a faucet made entirely of recycled plastic. However, the topic of sustainability does not end here: The wood raw material of the furniture comes from sustainable cultivation, the packaging is made without plastic and everything can be recycled after the end of its useful life. And in production, factories are very careful to follow the "zero waste" principle, many factories can prove that the production process is CO2-free. In addition, in order to boost this even more at home, it is worth placing plants in the bathroom as the latest bathroom accessories, so that we can feel in nature.
Colors: The new trend color in the bathroom is clearly black and matte. The brave go one step further and find different versions of white matt, gold, rosegold, chrome, for example, at Axor you can actually get all bathroom products in black. In addition to its colorful faucets, Duravit also offers the furniture handles and the drain in the same color. Interesting fact: everyone has different shades of color, so we won't be able to put products from two different factories in one bathroom if we think in terms of color.
Simplification of assembly: the goal of almost every factory is to have as few products as possible for craftsmen to install. A good example is the new Bette "Level" assembly system for shower trays. I was able to try it out, I managed to level a shower tray in 1.5 minutes.
Another product category that every factory pays a lot of attention to is anti-slip, which is especially important for the elderly and for those of you in hotels. The technology is refined every year, we all still remember the "dotted" shower trays, which were made non-slip with this technology. The Bette Anti-Slip Sense coating is unnoticeable and completely non-slip. It was also possible to try it out, so I will confidently recommend it to customers.
+1 Eye-catching elements: for example, I saw a completely new siphon system at the Geberit stand: finally, you don't have to cut out a piece of the drawer under the sink for the siphon, because the siphon slides completely under the sink. Kaldewei presented a shower drain with heat recovery. At the Laufen stand, I saw a bathtub with a transparent bottom and light, we can combine the experience of bathing with light therapy through an LED system. At Hansgrohé, the true hero of the stand that was presented is a bathroom that saves 90 percent of energy and water. And it's also ISH: Villeroy and Boch's wonderful new sanitary ware colors worthy of its 275th anniversary are captivating.
This year's ISH watchwords were sustainability and comfort. What have you experienced, how does this come across in the exhibitors' offers?
As I mentioned before, everyone strives for sustainability, saving energy and water. There was also a huge selection of heating systems, the goal being sustainability and energy saving.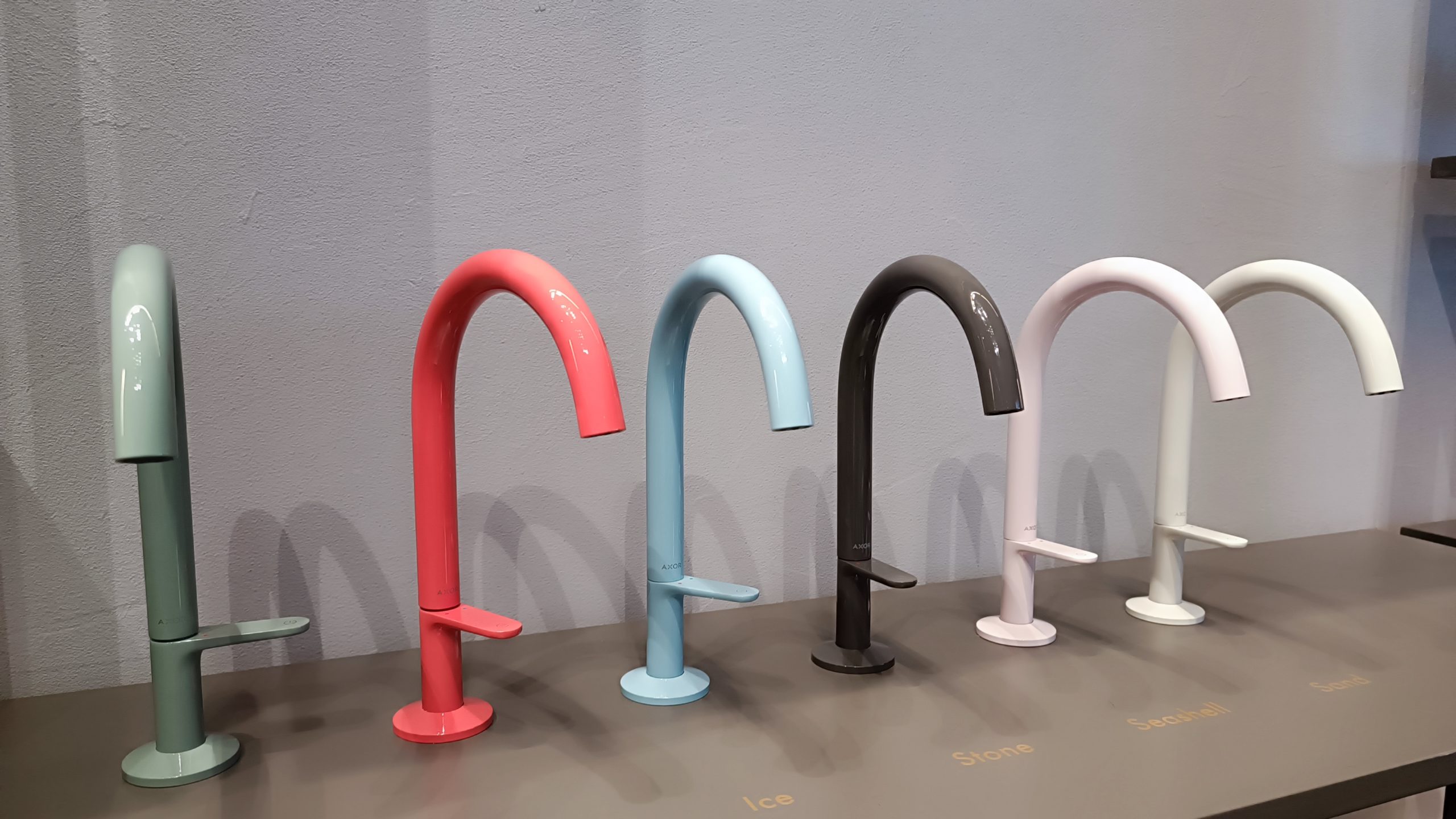 Did you have a personal favorite among the novelties, what stuck out the most?
The stand of the three big ceramic manufacturers was a great experience. Villeroy&Boch's concept with its colorful sanitary ware and new faucets captivated me, the reformation of Laufen's Alessi product line is truly eye-catching in terms of colors and shapes, Duravit's new furniture line with glass doors and simultaneously operable lighting attracts the eye not only with its design, but also simplifies use in terms of function.